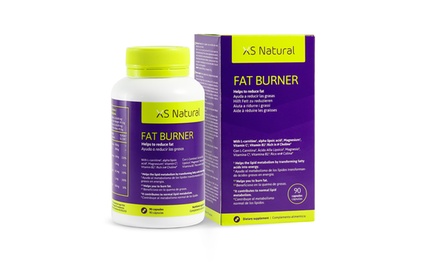 Designed to help manage weight, this nutritional supplement can fasten a fat burning process if paired with a well-balanced diet and workout
Price: €14.99
Value: €14.99
Discount: 0%
You save: €0.00
Description
Today's Groupon offers XS Fat Burner capsules.
Dietary supplement
Paired with a healthy diet and exercise can help manage weight
Designed to metabolise lipids and turn them into energy
Helps control appetite
Box includes 90 capsules
One box of 90 capsules is for 1-month use
Take three capsules a day, one after each meal
Consult doctor before using this product if using medication, if pregnant or breastfeeding. Do not take these tablets if allergic to one of the ingredients. This product is not recommended for children under the age of 18 years.
Ingredients: Alpha Lipoic Acid, Magnesium Oxide, Hill Bitartrate, L-Carnitine, Gelatin (Capsule), L-Ascorbic Acid, Anticaking Agents (Stearate Magnesium, Silicon Dioxide), Thiamine Hcl, Chromium Picolinate.
To ensure we have your most up to date details please add your new postcode to your address details. If you do not know your postcode you can identify it using this link
Terms and Conditions
Delivery: €2.49 (not included). Allow 8 working days.
Your order: At checkout you will be prompted to enter a delivery address. Delivery address cannot be amended after order is placed.
Further information: Products sold by Groupon Goods Global GmbH. For this deal the Terms of Sale and the Returns Policy of Groupon Goods Global GmbH are applicable. For more on Groupon Goods Global GmbH, see the FAQ.