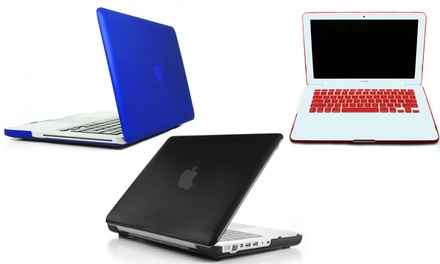 This MacBook is powered by an Intel Core 2 Duo processor and features 4GB or 8GB of RAM in its whit unibody to deliver smooth performance
Price: €359.00
Value: €359.00
Discount: 0%
You save: €0.00
Description

Today's Groupon offers refurbished Apple MacBook A1342, distributed by Computer Remarketing Services Ltd.
13.3''
Intel Core 2 Duo processor
CPU speed: 2.26-2.4GHz
OS: OS X El Capitan
4GB RAM or option to upgrade to 8GB RAM
DDR 3 memory
250GB HDD or option to upgrade to 1TB HDD
Smart DVD/RW
Wi-Fi and Bluetooth-enabled
Webcam
English US keyboard
White unibody
One year manufacturer's warranty
Please note: this product is in a fully operational condition. The MacBook might have some minor scratches and dents which will not affect the working of the machine. The unit has been tested, cleaned, checked and configured so that everything is according to the expected standard.
To ensure we have your most up to date details please add your new postcode to your address details. If you do not know your postcode you can identify it using this link
Terms and Conditions
Delivery: Free. Allow 8 working days (Monday to Friday).
Your order: Your voucher will be redeemed by Groupon on your behalf with Computer Remarketing Services Ltd, who will fulfill the order. Order will be dispatched to the delivery address entered at checkout. Delivery address cannot be amended after order is placed.
Further information: By purchasing a Groupon, you are purchasing a voucher for the products as described above. The order will be fulfilled by Computer Remarketing Services Ltd. For queries contact: crs-uk.biz/support/contact.html. For more information on Direct Checkout, pricing and delivery, see the FAQ. Returns: Computer Remarketing Services Ltd 32 Clarke Road Milton Keynes MK1 1LG UK.