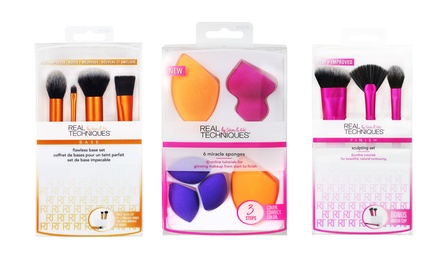 Choose from various beauty accessories including make-up sponges and brushes designed to help achieve a flawless look
Price: €5.95
Value: €6.79
Discount: 12%
You save: €0.84
Description

Today's Groupon offers Real Techniques cosmetics brushes.
Real Techniques Miracle Complexion Sponge
3-in-1 multifunctional make-up sponge
Rounded side blends larger areas of the face
Precision tip covers blemishes/imperfections
Flat edge contours around the eyes and the nose
Designed to provide smooth effect
Available quantities: one, two or four
Six-Piece Real Techniques Miracle Complexion Make-Up Sponge Set
Set includes six make-up sponges in various shapes and sizes
Three steps: cover, correct, colour.
Designed to provide well-blended, airbrushed look
Real Techniques Eyebrow Make-Up Brush Set
Set features accessories that enable to sculpt the eyebrows and create an ideal arch
Includes: brow scissors, angled tweezer, brow brush, brow spoolie, brow highlighting brush
Elegant case
Help clean up, fill in, define, shape, and highlight the brows
Real Techniques Sculpting Make-Up Brush Set
Three-piece set includes a sculpting/fan/setting brushes
Enables to create natural look
Designed to help accentuate favourite features, create defined contours, or simply enhance a natural bone structure
Real Techniques Flawless Base Brush Set
Four-piece set
Contour brush: for delicate application of highlighter or contour product above or below cheekbones
Detailer brush: precisely cut to conceal problem areas; can be used with lipstick for long-lasting shape and definition
Buffing brush: ideal for full-coverage application of loose or compact powder foundation
Square foundation brush: densely packed to build custom coverage with liquid foundation
Brush cup to keep brushes organised
Real Techniques Enhanced Eye Make-Up Brush Set
Five-piece set
Medium shadow brush: wide and flat with tapered bristles to softly sweep and blend powder or cream shadows
Essential crease brush: soft, tapered design for shaping using powder or cream shadows
Fine liner brush: for precise application of liquid or cream eyeliner
Shading brush: short and dense for even cosmetic distribution
Lash separator: metal comb to help separate mascara clumps
Brush cup to keep brushes organised
To ensure we have your most up to date details please add your new postcode to your address details. If you do not know your postcode you can identify it using this link
Terms and Conditions
**Delivery:** Free. Allow 7 working days. **Your order:** Your voucher will be redeemed by Groupon on your behalf with RL, who will fulfill the order. Order will be dispatched to the delivery address entered at checkout. Delivery address cannot be amended after order is placed. **Returns and queries:** You are responsible for the return shipping costs of the product to RL if you cancel your purchase during the 14 day withdrawal period. For how to return, click here. For queries contact: [email protected] Returns: 29-33 Devonshire Place St Helier Jersey JE2 3RD.