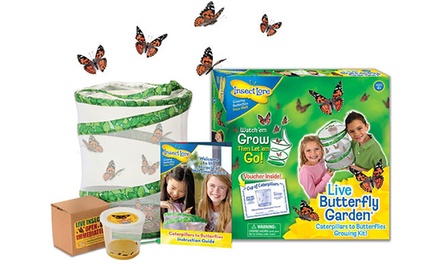 Let the little ones watch caterpillars eat and grow with this educational set including all the essentials needed to grow butterflies
Price: €24.50
Value: €24.50
Discount: 0%
You save: €0.00
Description
Voucher for a cup of caterpillars to redeem online included (please note: £2.99 shipping fee applies)
Cup includes five caterpillars, three of which should reach adulthood as stunning painted lady butterflies
Children can watch caterpillars eat and grow until each one finally creates its own chrysalis
Once the adult butterflies emerge, transfer them to the included pop-up mesh habitat and keep them healthy by feeding them according to the instructions with the feeding pipette
Detailed instructions explaining the crucial steps in caring for caterpillars and butterflies included
Recommended for age: 4+
Set Includes
11.5'' pop-up habitat
Feeding pipette
Voucher for a cup of caterpillars
Caterpillars to butterflies instruction guide
Please note: no living animals are in the kit and the caterpillars are only dispatched between March and mid-September.
Please note that a small postage and packing fee of £2.99 is required to have live caterpillars sent at the time of redeeming the included voucher.
To ensure we have your most up to date details please add your new postcode to your address details. If you do not know your postcode you can identify it using this link
Terms and Conditions
Delivery: €2.49 (not included). Allow 8 working days (Monday to Friday).
Your order: At checkout you will be prompted to enter a delivery address. Delivery address cannot be amended after order is placed.
Further information: Products sold by Groupon Goods Global GmbH. For this deal the Terms of Sale and the Returns Policy of Groupon Goods Global GmbH are applicable. For more on Groupon Goods Global GmbH, see the FAQ.