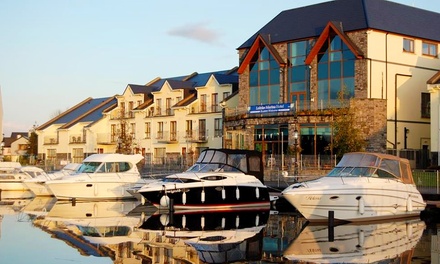 Price: €69.00
Value: €69.00
Discount: 0%
You save: €0.00
Description
The Hotel
Nestled on the banks of the Shannon Erne Waterway, The Marina Hotel offers visitors the chance to explore Ireland's lake district. The hotel is situated only a 5-minute drive from Carrick-on-Shannon and makes a great base for leisure activities such as walking, fishing, canoeing and golfing.
Spacious rooms are kitted out with TVs, hot drink-making facilities, hairdryers, and en suite bathrooms with complimentary toiletries.
Guests can find an on-site modern restaurant and bar serving light lunches and evening meals prepared using locally sourced produce.
Groupon's Guide To County Leitrim
Bordered by the counties of Donegal to the north and Longford to the south, Leitrim is one of the smallest counties in Ireland, boasting a little over 1500 square kilometres and almost 32000 people.
Famous for its green scenery and natural landscapes, Leitrim is also home to numerous historic attractions. The Cavan & Leitrim Railway is a historic railway offering visitors the chance to see an extensive collection of steam, diesel trains, rolling stock and vintage buses. In the county's 'capital' town Carrick-on-Shannon, travellers may visit The Costello Memorial Chapel, the smallest chapel in Europe and the second smallest chapel in the world. Other attractions are: Arigna Mining Experience-preserving the energy heritage of the Arigna Valley, Lough Key Forest Park-where visitors may stroll along the alleys in a verdant environment, and Parke's Castle-a structure dating back to the 16th century.
The Marina Hotel
Leitrim Marina Hotel Leitrim Marina

Terms and Conditions
Cancellation policy: No modification or cancellation allowed after booking confirmation. Bookings are non-refundable and non-transferable to another destination once confirmed. Validity: Valid from 1 Apr to 30 Jun 2018. Voucher valid all days of the week. Supplement of €20 per person per night applies to Friday/Saturday stays. Price for 2 people. Booking
Mandatory booking required. Must book within 30 days of purchase. Check availability before booking.



Queries by phone: +353719623644. Limit 1 voucher per stay. Limitations: Must be 18 or older with a valid ID for alcohol. Other Information: The hotel is located in Carrick on Shannon, Leitrim, Ireland. No transfers included. No city tax. Valid for stay in a deluxe double or twin room for 2 people. Additional persons: Standard room occupancy: 2 adults. Maximum occupancy: 2 adults and 2 additional children. – Additional children under 3 years old stay free of charge. – Additional 3- to 12-year-olds can stay for €10 supplement per person per night. – Additional 12- to 18-year-olds can stay for €19 supplement per person per night. For additional 3- to 12-year-olds and 12- to 18-year-olds, rooms will be upgraded to accommodate the additional guests. Vouchers sold by Groupon International Travel GmbH.