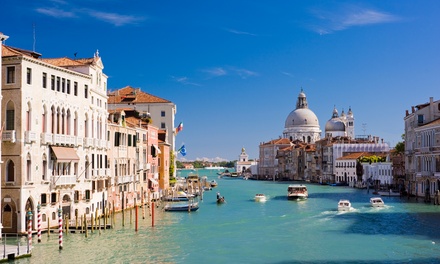 Price: €199.00
Value: €199.00
Discount: 0%
You save: €0.00
Description
The Hotels
Located in Rome, Albergo Athena Hotel serves as a suitable base for exploring the Eternal City with its charming cobbled streets, numerous historical sites, shops and a variety of cosy restaurants serving hearty Italian meals.
Neighbouring the historical centre of Florence, Diva Hotel offers classic accommodation in the capital of Tuscany, close to a plethora of Renaissance style monuments and cultural hotspots. Placed on the outskirts of Florence, the four-star Hotel First is a 7-minute walk from Pratignone bringing tourists closer to the city's main attractions.
Located in the old town of Mestre, Venice, Hotel Centrale boasts classic decor and quick access to attractions, such as Piazza San Marco, Doge's Palace and Sait Mark's Basilica. Located just a short walk from the beach, Hotel La Meridiana allures with traditional Italian charm in the village of Lido.
The Itinerary
Fly from Dublin to Rome
Spend 2 or 3 nights in Rome
Head from Rome to Florence by train
Spend 2 or 3 nights stay in Florence
Head from Florence to Venice by train
Spend 2 or 3 nights stay in Venice
Fly from Venice to Dublin
Groupon's Guide To Rome
From famous historic sites to relatively obscure catacombs, basilicas, fountains and museums, the Eternal City has many things to offer, as historic landmarks go hand in hand with the vibrant city nightlife.
Passing through old cobblestone streets and ruins, visitors can catch a glimpse of Rome's main attractions such as the Pantheon, one of the best kept classical architecture buildings in the world, the iconic Trevi Fountain and the Vatican Museums. Sweeping views over the city can be captured on film and camera from the Spanish Steps, where holidaymakers can unwind over a prosciutto panini or a gelato after a day of exploring numerous shopping centres and bazaars. Nestled beneath the Vatican walls, the Prati district mixes elegant office buildings with high-end boutiques and public squares, while imposing military barracks and Museo delle Anime dei Defunti provides a unique experience. Tourists can also get a taste of a typical Italian night out by visiting local restaurants, bars and clubs and enjoying a classic pizza or pasta. Rome has a Mediterranean climate with hot summers and rainy winters. From June to September the average temperature is 27°C, and may go as high as 30°C in July and August, with ten hours of sunshine a day. October and November are the wettest months of the year, while weather in December is often overcast, cool and rainy, with average temperatures dropping to 10°C.
Groupon's Guide To Venice
The capital of the Veneto region, listed as a World Heritage Site, Venice is set on a group of 118 small islands separated by a labyrinth of canals and linked by century-old bridges. Colonnaded squares, domes and arches can be seen while on a sleek motorboat or during a gondola ride that will carry visitors through the city's main waterways.
Tourists shouldn't miss out on the opportunity to visit the Doge's Palace, a symbol of the republic's wealth and mastery over land and sea. On the eastern end of St. Mark's Square, the world-renowned Byzantine basilica has become a landmark of the city with its four bulbous domes and golden mosaics. Throughout the cobbled streets, there are countless shops where travellers can pick out unique handmade masks painted according to the 800-year-old Venetian tradition. Venice has a humid subtropical climate characterised by warm summers and cold winters. The sky is clear, with a moderate level of sunshine that invites holidaymakers to visit the city during autumn, while winter months bring an average high temperature of 6°C and three hours of sunshine per day.
Groupon's Guide To Florence
Florence is a treasure trove of art and architecture, with numerous museums and galleries. Considered the birthplace of the Renaissance, the Tuscan capital is sprinkled with terracotta and ancient Carrara marble, as well as grand buildings and monuments that proudly stake their claim for admiration. Boasting vast iron and glass structure, Piazza San Lorenzo is one of the most authentic covered market places in Florence, with fruit and veg stalls, Tuscan trinket sellers, and historic restaurants. Masterpieces of modern fashion come in plenty on Florence's hip Via dei Calzaiuoli and Via de Tornabuoni, which boast high-end boutiques, filled with haute couture pieces. After long days of traditional dining and market strolling, visitors can head to the Piazza Michelangelo for sunset shots, live music and Italian atmosphere at its finest.
The summer season lasts from June to mid-September and is characterised by humidity with more than 33ºC on average in July. In autumn, the weather gets cooler, with November being the wettest month of the season. In this season, precipitations may occur more often and the temperatures will rarely exceed 23ºC. The cold period lasts from 17 November to 8 March. During this season, the weather in Florence is not particularly cold, and snow is usually uncommon in the region. Springs are sunny, with temperatures ranging between 15°C and 23°C.
Mestre
Centrale Hotel, P.le Donatori di Sangue 14

Terms and Conditions
Cancellation policy: No modification or cancellation allowed after booking confirmation. Bookings are non-refundable and non-transferable to another destination once confirmed. Validity: Valid for arrivals on selected dates from May to Dec 2018, depending on the option chosen. Dates are subject to availability. Price per person (pp) based on double room occupancy. You must buy 2 vouchers to complete the booking. For customers who want to travel alone, a single supplement will apply based on departure date and time. Please enquire the travel provider at the time of booking. Validity period depends on option purchased (date and number of nights). Booking: Must book within 7 days from voucher purchase and at least 20 days ahead of departure. Booking required by phone 012469696 or via online form. Attach your coupon there. You will receive confirmation of your reservation from the merchant within 3 working days from the date the booking is completed with the Travel Provider. Book your place immediately after buying the voucher to confirm holiday and avoid disappointment. Purchasing the voucher does not guarantee the holiday, customers must book before travel and it is not possible to turn up without prior booking. Limit of 4 vouchers per person. May buy extra as gifts, but cannot buy more to extend the deal. Transportation details: Valid for direct return flights from Dublin to Rome (CIA/FCO), then from Venice (VCE/TSF) to Dublin. Travel documents to be received up to 1 day before departure. You must have your printed boarding pass at the airport, at the risk of having to pay additional charges. Not included: in-flight meals and hold luggage (hold luggage can be purchased at the time of booking with the merchant, the cost will depend on the airline). Hand luggage of up to 10 kg per person included. Airport taxes included. A valid passport is mandatory. This is a special offer based on specific flight times, dates, airlines and airports which will be advised at the time of booking with the travel provider. Flight departure points, dates and hours are subject to availability. Other Information: The hotels are located in Rome, Venice and Florence, Italy. If the featured hotel is unavailable, a hotel of similar or higher standard will be offered to customers at the time of booking. Excl. city tax of €4 per person per night at Albergo Athena (Rome) and Diva Hotel (Florence), €2.40 per person, per night at Hotel Centrale (Venice), and €2.80 per person, per night at Hotel La Meridiana (Venice); no city tax at Hotel First (Florence). City tax to be paid to the hotel directly. Valid for stay in a standard double/twin room for one person (based on two people sharing). Maximum room occupancy: 2 adults. Child policy: please enquire the travel provider at the time of booking. For travel advice, please see https://www.gov.uk/foreign-travel-advice/italy. *Price from €199, per person, based on double room occupancy. Vouchers sold by Groupon International Travel GmbH.