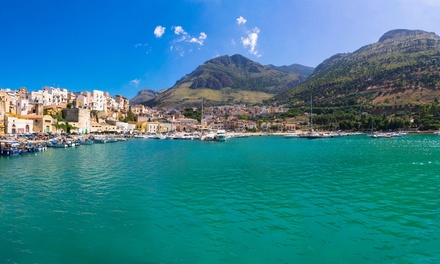 Price: €119.00
Value: €119.00
Discount: 0%
You save: €0.00
Description
The Experience
Travellers head to one of the regions of Italy and spend up to four nights sightseeing and soaking in Mediterranean vibes. While in the Lake Garda area, holidaymakers can take advantage of numerous water sports opportunities, visit some of the historic sites, and dine in one of the local restaurants that offer traditional Italian cuisine. Guests have a chance to discover the largest lake in the country along with its green surroundings and quaint harbour towns. 
Those choosing Lake Como can enjoy a relaxing break amidst postcard-like scenery. Being close to the local vineyards, guests can indulge in authentic wines and see how they're made.
Naples, situated in Southern Italy, welcomes travellers with plenty of attractions, from historic landmarks and museums to parks and fountains. A taste of local culture is embraced in the form of restaurants, cafes and charming galleries.
Mediterranean breeze can be also enjoyed in Sicily, the land of mountains and hills covered in endless vineyards and the sea that constantly changes its colours. Staying in its capital city, Palermo, holidaymakers experience a unique mix of cultures. Ancient monuments, Byzantine mosaics and Gothic churches blend here with lively cafes, bars and markets.
The Hotels
Groupon's Guide To Lake Garda
The romantic town of Riva del Garda is set between the green-clad slopes of the Italian Alps and the blue shimmering waters of Lake Garda. Forming a secluded Mediterranean oasis with olive trees and palms at every step, the lake's rolling shores are a paradise for travellers fond of nature.
Tourists can try their hand at an array of water sports, such as sailing and windsurfing at the town's two harbours, while rock climbing provides further land adventures. Strolling down pedestrianised streets, holidaymakers can see moated castles and a medieval tower, and enjoy a traditional Italian lunch at one of the many local restaurants in the historic town of Riva del Garda. The town's civic museums is home to galleries and an archaeological collection, while historic sites can be found in Rocca, a former fort just off the shore. The region features a humid subtropical climate characterised by warm summers and rather cold winters. Summer comes with average temperatures of 28°C, lots of sunshine in July and frequent rainfalls in August. In autumn, a clear sky and moderate levels of sunshine invite travellers to visit the city during the season.
Groupon's Guide To Lake Como
The third largest lake in Italy, Como blooms in the fresh breezes of the Alps, exposing flourishing wildlife in a vast and verdant scenery. With ancient lakeside villas and landscaped parks scattered around, the city bears witness to the regal past and decadent wealth of the Roman Empire.
Crystal-clear waters invite holidaymakers to set sail and go yachting or make the most of the refreshing winds from the Alps and try out a session of windsurfing or kitesurfing at one of the on-shore sporting centres. Lakeside hiking trails will lead to the Tremezzo village, where the manicured gardens of the medieval Villa Carlotta fill the air with sweet perfume. Amid rustling olive groves and exotic woods on the western edge of the lake, The Sacro Monte di Ossuccio attracts cultural sightseers with its 15 Baroque-inspired chapels leading up to the famous sanctuary. Similarly inspiring historic sights await at the Gothic Como Cathedral, which features imposing Renaissance architecture and statues.
Groupon's Guide To Naples
From famous historic sites dating back to the Greek and Roman period, to relatively obscure catacombs, basilicas, fountains and museums, the capital city of Campania region has many things to offer, as city landmarks go hand in hand with the vibrant city nightlife.
Boasting a winding maze of alleyways that pass the facades of churches and the elegant forms of Baroque sculptures, Naples invites travellers to visit the streets of nearby Pompeii, an ancient Roman city destroyed and buried in ash as a result of Mount Vesuvius eruption in 79 AD. Covering over 4000 acres and enclosing 27 centuries of history, Naples historic centre is the largest in all of Europe, and is listed by UNESCO as a World Heritage Site. The Neapolitan cuisine has ancient historical roots, famous for the Margherita Pizza, made with mozzarella and tomato, and the sea food dishes served with macaroni.
Groupon's Guide To Palermo
On the north-western coast of the Mediterranean's largest island lies Palermo, the capital city of Sicily, and one of the most popular tourist destinations of the island, offering travellers an array of historic and cultural attractions.
Guests may visit numerous attractions mixing many architectural styles, ranging from monuments, squares and historic buildings, to the most popular districts. Suggestive are the famous Palermo Cathedral or Teatro Massimo, as well as the traditional markets of Vucciria, Ballarò and Capo. Some other examples boasting the city's heritage include Via Maqueda, Via Roma or Viale della Libertà, Piazza Politeama, or the Palazzo dei Normanni. Visitors may also enjoy some of the culinary specialties of the region that include unusual combinations such as almonds and pistachios, pasta with sardines, saffron and sultanas, as traditional recipes are being carefully preserved from generation to generation.
Options
Option 1: Lake Garda stay
€119-€289 for 2 nights, depending on dates chosen
€169-€329 for 3 nights, depending on dates chosen
€189-€389 for 4 nights, depending on dates chosen
Option 2: Lake Como stay
€139-€349 for 2 nights, depending on dates chosen
€189-€399 for 3 nights, depending on dates chosen
€229-€449 for 4 nights, depending on dates chosen
Option 3: Naples stay
€149-€269 for 2 nights, depending on dates chosen
€129-€289 for 3 nights, depending on dates chosen
€179-€329 for 4 nights, depending on dates chosen
Option 4: Sicily stay
€189-€349 for 3 nights, depending on dates chosen
€219-€379 for 4 nights, depending on dates chosen
Please Note: availability at the advertised rates is extremely limited.
*Per Person Offer
Customers must purchase two vouchers to complete the booking
Riva del Garda
Via B. G. Nascimbeni 12, Brenzone sul Garda

Terms and Conditions
Cancellation policy: No modification or cancellation allowed after booking confirmation. Bookings are non-refundable and non-transferable to another destination once confirmed. Validity: Valid for arrivals on selected dates from May to Dec 2018, depending on the option chosen. Dates are subject to availability. Price per person (pp) based on double room occupancy. You must buy 2 vouchers to complete the booking. For customers who want to travel alone, a single supplement will apply based on departure date and time. Please enquire the travel provider at the time of booking. Validity period depends on option purchased (date and number of nights). Booking: Must book within 7 days from voucher purchase and at least 20 days ahead of departure. Booking required by phone 012469696 or via online form. Attach your coupon there. You will receive confirmation of your reservation from the merchant within 3 working days from the date the booking is completed with the Travel Provider. Book your place immediately after buying the voucher to confirm holiday and avoid disappointment. Purchasing the voucher does not guarantee the holiday, customers must book before travel and it is not possible to turn up without prior booking. Limit of 4 vouchers per person. May buy extra as gifts, but cannot buy more to extend the deal. Transportation details: Valid for direct return flights from Dublin to Lake Como (MXP/BGY), Lake Garda (MXP/BGY), Naples (NAP) and Sicily (PMO) Travel documents to be received up to 1 day before departure. You must have your printed boarding pass at the airport, at the risk of having to pay additional charges. Not included: in-flight meals and hold luggage (hold luggage can be purchased at the time of booking with the merchant, the cost will depend on the airline). Hand luggage of up to 10 kg per person included. A valid passport or EU ID card is mandatory. This is a special offer based on specific flight times, dates, airlines and airports which will be advised at the time of booking with the travel provider. Flight departure points, dates and hours are subject to availability. Flights times range from outbound 6.15am-6.20pm, inbound 10.05am-22.30pm, alternatives may attract a supplement which will be confirmed at time of booking. Other Information: The hotels are located in Garda, Como, Naples and Palermo, Italy. Excl. city tax of €1 per person per night at the hotels in Garda, €2 per person per night at the hotels in Como and Naples. No city tax required in Palermo. Valid for stay in a standard double/twin room for one person (based on two people sharing). Maximum room occupancy: 2 adults. Child policy: please enquire the travel provider at the time of booking. For travel advice, please see https://www.gov.uk/foreign-travel-advice/italy. *Price from €119, per person, based on double room occupancy. Vouchers sold by Groupon International Travel GmbH.