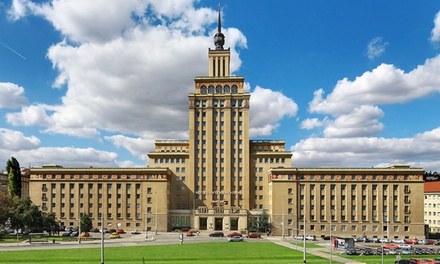 Price: €69.00
Value: €125.00
Discount: 45%
You save: €56.00
Description
The Hotel
Conveniently placed in the residential area of Prague-Dejvice, the four star Hotel International Prague sits close to transportation links offering easy access to the main sights of the "Golden City". The hotel itself is a national landmark, listed as a Czech state-protected monument.
Spacious rooms boast air conditioning and come equipped with double beds with quality mattresses, as well as safes, irons, and tea- and coffee-making facilities.
Hotel International Prague offers an array of dining opportunities. Those wishing to sample international cuisine are invited to the hotel's main restaurant, Harvest. A selection of desserts, mixed drinks and coffees may be enjoyed at the Armstrong Bar. Other facilities available on site include a fitness centre, sauna, solarium, and a souvenir shop.
Groupon's Guide To Prague
The capital city of the historic Bohemia region, Prague is one of the most popular destinations in Central Europe. Mirroring in the River Vltava, the city has been alluring visitors with numerous bridges, cathedrals, and gold-tipped towers for more than 10 centuries. Travellers can embrace the medieval charm of the city while strolling through the winding cobblestone alleyways with red slate rooftops and historic quarters of the Old Town, indulge in the panoramic views of the city from the 9th-century castle or catch a traditional puppet performance at the National Marionette Theatre. Various restaurants tempt the senses with hearty Czech cuisine and local beer, while the new town offers an array of high-fashion shops, clubs and entertainment options.
The weather in Prague varies according to the four seasons. Maximum temperatures during the warm summer season range between 22°C and 25°C, while during the winter months the temperatures drop to 1°C. Although summer brings the wettest time for the city, with more than 70mm of precipitations per month, the season witnesses more than seven hours of sunshine per day suitable for leisurely activities and exploring the city sights.
Options:
Option 1: arriving in high season 1 (1-30 Apr 2017)
€69 for 1 night (45% off)
€138 for 2 nights (45% off)
€207 for 3 nights (45% off)
Option 2: arriving in high season 2 (1 May-30 Jun and 1 Sep-31 Oct 2017)
€79 for 1 night (53% off)
€158 for 2 nights (53% off)
€237 for 3 nights (53% off)
Option 3: arriving in mid season (1 Jul-31 Aug 2017)
€55 for 1 night (56% off)
€109 for 2 nights (56% off)
€165 for 3 nights (56% off)
Option 4: arriving in low season (1 Nov 2017-31 Mar 2018)
€41 for 1 night (59% off)
€82 for 2 nights (59% off)
€121 for 3 nights (59% off)
Hotel International Prague
Koulova 15

Terms and Conditions
Validity: Valid from 1 Apr 2017 to 31 Mar 2017. Excluded dates/periods: 14-17 Apr 2017 and 28 Dec 2017-2 Jan 2018. Price for 2 people. Booking: Must book 24 hours after voucher purchase. Booking required by phone: 00420 222 231 610 or by email: [email protected] (Mon-Fri 9am-5pm), and subject to availability. Please attach your voucher to the e-mail. Modifications at least 3 days before scheduled date of arrival and upon availabilities. No cancellation allowed after booking confirmation. Bookings are non-refundable and non-transferable to another destination once confirmed. Limit 10 vouchers per stay. Vouchers can be combined to extend stay. Other Information: The hotel is located in Prague, Czech Republic. No city tax. No transfers included. Valid for stay in a standard double room for 2 people. Original values based on stays in a standard double room between 1 Apr 2017 to 31 Mar 2017. Limited availability for these dates. Original values verified on booking website on 9 Mar 2017. Vouchers sold by Groupon International Travel GmbH.