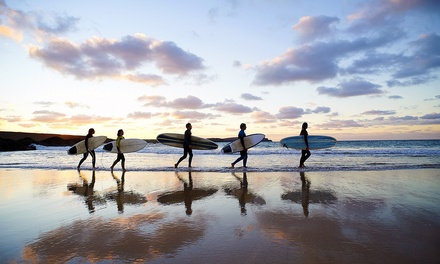 Price: €179.00
Value: €179.00
Discount: 0%
You save: €0.00
Description
The Hostel
Basking in the Portuguese sun, just a 10-minute walk from the beach, the Ericeira Chill Hill awaits surfing enthusiasts in the town of Ericeira, a World Surfing Reserve.
The dorm rooms boast bunk beds and balconies, some with a sea view. There are shared kitchens on site, as well as security lockers, a well-manicured garden, and a lounge with a TV. Guests can take advanatge of complimentary Wi-Fi and a free parking street located near the bus station to and from Lisbon, just a 5-minute walk from the hostel.
Click here to book flights.
Groupon's Guide To Ericeira
Showcasing cobbled streets and traditional houses in the central Portuguese county Mafra, the small town of Ericeira is located about 50 km north of Lisbon on the Atlantic coast. This scenic region is characterised by steep cliffs, fjord-like bays, and rock jetties running into the sea.
With 8 km of sandy beaches and vibrant waves, Ericeira has been hosting the ASP World Championship since 1985, and was declared Europe's first surf Reserve in 2011. The town centre beckons with enticing restaurants, cafes and bars offering a fine selection of local delicacies. Between surf lessons and relaxed sunbathing, travellers may also visit the capital of Portugal, Lisbon.
ERICEIRA CHILL HILL
Rua Nelson Gomes Salvador, Lote 40, nº6

Terms and Conditions
Validity: Valid 7 days a week until 23 Dec 2017. Low season dates: 3 Jan-24 Feb, 1 Mar-7 Apr, 14 Oct-22 Dec 2017
Medium season dates: 17 Apr-9 Jun, 9 Sep-13 Oct 2017
High season dates: 8-16 Apr, 10 Jun-8 Sep 2017
Guaranteed check ins and check outs on Saturdays. For other days please contact the merchant directly. For stays intercepting different seasons, the rate to be applied will be the one with more days of stay. Price for 1 person. Booking: Must book within 24 hours from voucher purchase. Questions and bookings (upon availabilities) required by phone: 00351 9197 13490 or by e-mail: [email protected], and subject to availability. Please provide PDF Groupon voucher and state full name, country of residence, address, passport number, date of birth, phone number. Cancellations and modifications possible up to max. 1 week prior to arrival and subject to availability. Bookings are non-refundable and non-transferable once confirmed. Please do not book your flights until you receive the final reservation confirmation. No limit per stay. May buy multiple to extend stay or as gifts. Other Information: The hostel is located in Ericeira, Portugal. No city taxes. No transfers included. Airport transfers can be added, subject to additional charges; please enquire when booking. Valid for stay in shared 6-bed shared dorm for 1 person. Upgrade to a private room available for an additional supplement, please enquire when booking. Linen and towels provided (customers staying in dorm rooms are encouraged to bring their own towels). Vouchers sold by Groupon International Travel GmbH.