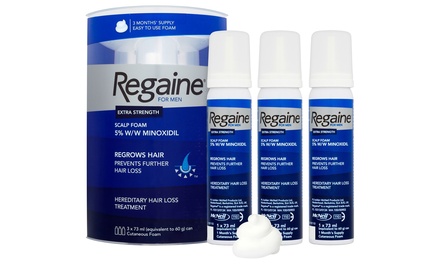 This scalp foam is made to help re-grow hair to prevent hair loss thanks to the active minoxidil
Price: €29.99
Value: €38.99
Discount: 23%
You save: €9.00
Description
Choose from the following options for Regaine for men foam:
€29.99 for one 73ml foam
€59.99 for three 73ml foams
€112.99 for six 73ml foams
The Specifics
For external use only
Suitable for men aged 18-49 years
This product should not be used by women, people who suffer from a problem with blood pressure, have a red, inflamed, irritated, infected or painful scalp or shaven head
Active ingredient: Minoxidil 50mg/g
Ingredients: Ethanol anhydrous | purified water | butylated hydroxytoluene (E321) | lactic acid | citric acid anhydrous | glycerol | cetyl alcohol | stearyl alcohol | polysorbate 60 | propane | butane | isobutane
How To Use
Hair and scalp should be thoroughly dry before use
Apply a dose of 1g (equivalent to the volume of half a capful) onto the hand and massage on to the scalp twice daily (with a 12-hour interval in-between)
See leaflet for instructions on how to apply this product
Replace cap on the can when not in use
Continuous use is necessary to improve and at least maintain hair re-growth
Hair re-growth may be noticeable after 2 months
Terms and Conditions
Delivery: €2.49 (not included). Allow 8 working days.
Your order: At checkout you will be prompted to enter a delivery address. Delivery address cannot be amended after order is placed.
Original value: Based on online price as sold by Landys Chemist, checked on 15.03.2017.
Further information: Products sold by Groupon Goods Global GmbH. For this deal the Terms of Sale and the Returns Policy of Groupon Goods Global GmbH are applicable. For more on Groupon Goods Global GmbH, see the FAQ.