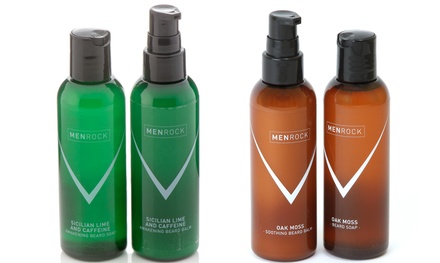 Featuring light and refreshing or moisturizing formula, this set includes a beard balm and shampoo; subtle yet alluring fragrances
Price: €14.99
Value: €36.24
Discount: 59%
You save: €21.25
Description
Awakening Beard Balm and Shampoo with Sicilian Lime and Caffeine
Light formula
Refreshing scent
Packs a powerful caffeine punch
Instruction:

Apply and lather in the beard shampoo
Massage well into the beard and skin
Rinse the shampoo out with warm water

One set includes:

Awakening Beard Shampoo, 100ml
Awakening Beard Balm, 100ml
Soothing Beard Balm and Shampoo with Oak Moss
Moisturizing formula
Leave-in conditioner
Softeners instead of a waxy or oily consistency
The beard soap leaves the beard clean and free from all the dead skin
Removes any styling products
Specially formulated for facial hair and skin beneath
Eliminates any unwanted itching and softens thick hairs
Subtle yet alluring oak moss fragrance
Instruction:

Apply a small amount of balm to a towel-dried beard after a bath or shower
Massage in well into beard and the skin below
Rinse the shampoo out with warm water

One set includes:

Soothing Beard Shampoo, 100ml
Soothing Beard Balm, 100ml
Ingredients
Awakening Beard Shampoo
Aqua| Sodium Lauryl Sulfoacetate| Disodium Laureth Sulfosuccinate| Cocoamidopropyl Betaine| Polyquaternium-7| Lauroyl Assassinate| Glycerine| PEG-150 Distearate| PEG-40 Hydrogenated Castor Oil| Parfum| Tocopherol (Vitamin E)| Caffeine| Chloromethylisothiazolinone| Methylisonthiazolinone| Coumarin| alpha-is-Methylionone
Awakening Beard Balm
Aqua| Aloe Barbadenis (Aloe Vera) Leaf Juice| Cetyl Alcohol| Behentrimonium Chloride| Dimethicone| Parfum| Helianthus Annuus (Sunflower) Seed Oil| Hydrolysed Wheat Protein| Calcium Pantothenate| Vitamin B5| DMDM Hydration| Decyl Glucoside| Citric Acid| Menthol| Caffeine| Benzyl Alcohol| Citral| Coumarin| Eugenol| Geraniol| Limonene| Linalool| alpha-is-methyl ionone| dl-Citronellal
Soothing Beard Shampoo
Aqua| Sodium lauryl Sulfoacetate| Disodium Laureth Sulfosuccinate| Cocoamidopropyl Betaine| polyquaternium-7| lauroyl Assassinate| Glycerine| PEG-150 Distearate| PEG-40 Hydrogenated Castor oil| Parfum| Chloromethylisothiazolinon| Methylisonthiazolinone| Benzyl Benzoate| Linalool| Eugenol| Limonene| Benzyl Cinematic| Cinamal
Soothing Beard Balm:
Aqua| Aloe Barbadenis (Aloe Vera) Leaf Juice| Cetyl Alcohol| Behentrimonium Chloride| Dimethicone| Parfum| Helianthus Annuus (Sunflower) Seed oil| Hydrolysed Wheat Protein| Calcium Pantothenate (Vitamin B5)| DMDM Hydration| Decyl Glucoside| Citric Acid| Menthol| Benzyl Benzoate| Linalool| Eugenol| Limonene| Benzyl Cinematic| Cinamal
To ensure we have your most up to date details please add your new postcode to your address details. If you do not know your postcode you can identify it using this link
Terms and Conditions
Delivery: €2.49 (not included). Allow 8 working days (Monday to Friday).
Your order: At checkout you will be prompted to enter a delivery address. Delivery address cannot be amended after order is placed.
Original value: Based on online price as sold by Beanbone, checked on 17.03.2018.
Further information: Products sold by Groupon Goods Global GmbH. For this deal the Terms of Sale and the Returns Policy of Groupon Goods Global GmbH are applicable. For more on Groupon Goods Global GmbH, see the FAQ.