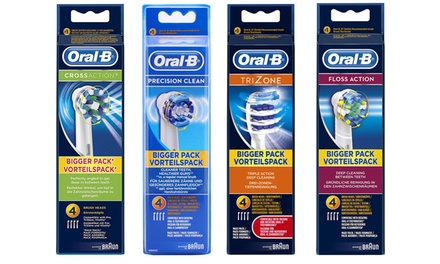 This range of Oral B toothbrush heads is designed to provide more efficient and comprehensive cleaning results
Price: €14.99
Value: €24.99
Discount: 40%
You save: €10.00
Description

Oral B Floss Action Toothbrush Heads
Micropulse bristles for interdental clean
Round head may help achieve healthier gums in 30 days versus a manual toothbrush
Designed with dentists for tooth by tooth cleaning
Compatible with the entire line-up of Oral B electric toothbrushes, except for Oral B sonic toothbrushes
Oral B Precision Clean Toothbrush Heads
Designed to reach deep between teeth and cover more surface, leaving the whole mouth cleaner than a regular manual
May help erase 100% more plaque for an enhanced clean, in comparison to a regular manual toothbrush
Compatible with Oral B Genius 8000, 9000, PRO 600, 650, 1000, 2000, 2500, 3000, 4000, 4900, 5000, 6000, 6500, 7000, Oral B Vitality and Vitality Plus variants
The Oral B TriZone Toothbrush Heads
Designed to deliver more visible results
Dynamic angled power tip designed to access hard-to-reach areas like the very back teeth
Sweeping, pulsating three-bristle zones aim to reach deep between teeth for a stimulating brushing experience and comprehensive clean
Oral B CrossAction Replacement Toothbrush Heads
Features a round head design to clean tooth-by-tooth
CrissCross bristles are set at a 16-degree angle to effectively clean along the gumline and reach deep between teeth to lift and power away up to 100% more plaque for a precise clean in comparison to a regular manual toothbrush
To ensure we have your most up to date details please add your new postcode to your address details. If you do not know your postcode you can identify it using this link
Terms and Conditions
Delivery: Free. Allow 8 working days (Monday to Friday).
Your order: Your voucher will be redeemed by Groupon on your behalf with Raion , who will fulfill the order. Order will be dispatched to the delivery address entered at checkout. Delivery address cannot be amended after order is placed.
Original value: Based on online price as sold by Boots, checked on 12.05.2019.
Further information: By purchasing a Groupon, you are purchasing a voucher for the products as described above. The order will be fulfilled by Raion . For queries contact: [email protected]. For more information on Direct Checkout, pricing and delivery, see the FAQ. Returns: Crazy Kangaroo (Returns) (DMS) 29-33 Devonshire Place St Helier Jersey JE2 3RD.
This deal cannot be added to your cart, purchase it directly via "Buy".