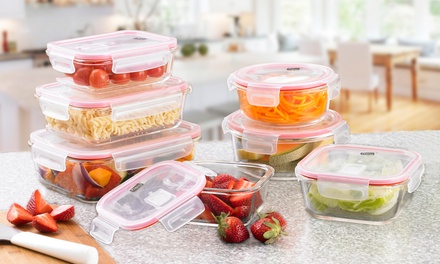 A great storage solution for homemade goodies and leftovers, these glass containers are oven, microwave- and dishwasher-safe
Price: €34.99
Value: €59.99
Discount: 42%
You save: €25.00
Description
Glass containers, BPA-free clip on lids
Integrated vent latch for safe microwaving
Stain- and odour-resistant
Oven-safe (without lid) up to 300°C
Microwave- safe (leave lid ajar when using in microwave)
Dishwasher-safe
Suitable for freezer
Easy-to-store, nestable
Made from borosilicate glass with silicone seal
14-Piece Set Includes:
One round 650ml/22oz container (15.6cm x 15.6cm x 6.9cm)
One round 950ml/32.1oz container (18.1cm x 18.8cm x 7.6cm)
One square 520ml/17.6oz container (14.1cm x 14.1cm x 6.1cm)
One square 800ml/27.1oz container (16.2cm x 16.2cm x 6.9cm)
One rectangle 640ml/21.6oz container (17.7cm x 13.5cm x 6.2cm)
One rectangle 1050ml/ 5.5oz container (20.8cm x 16cm x 6.9cm)
One rectangle 1520ml/51.4oz container (23.1cm x 17.4cm x 7.5cm)
To ensure we have your most up to date details please add your new postcode to your address details. If you do not know your postcode you can identify it using this link
Terms and Conditions
Delivery: €2.49 (not included). Allow 8 working days (Monday to Friday).
Your order: At checkout you will be prompted to enter a delivery address. Delivery address cannot be amended after order is placed.
Original value: Based on online price as sold by Neo Deals, checked on 12.03.2018.
Further information: Products sold by Groupon Goods Global GmbH. For this deal the Terms of Sale and the Returns Policy of Groupon Goods Global GmbH are applicable. For more on Groupon Goods Global GmbH, see the FAQ.