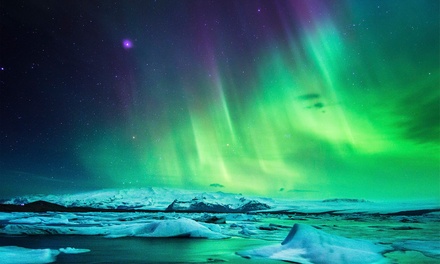 Price: €249.00
Value: €249.00
Discount: 0%
You save: €0.00
Description
The Hotels
Located in a peaceful area of Reykjavik, Arctic Comfort Hotel awaits guests within a walking distance from the Kringlan shopping centre and the city's main outdoor area, Laugardalur. Guests are invited to unwind in en suite bedrooms which boast contemporary decor and flat-screen TVs.
Cabin Hotel awaits guests just a stone's throw away from the Faxaflói Bay's waterfront promenade and offers quick access to the city's attractions. The rooms feature flat-screen TVs and en suite bathroom facilities. Appetites can be satisfied at the on-site restaurant, while the hotel's bar offers an array of beverages.
The Tours
The Northern Lights Tour
Visitors are invited to take part in a unique experience which happens at night time in the Northern Hemisphere and can be seen on dark winter nights. One of nature's most spectacular displays appears in the sky in the form of different shapes, proportions and patterns, known as the Northern Lights.
Duration: 3-5 hours
Pick-up 30 minutes before the time displayed on the voucher at the bus terminal at Laekjartorg (please call 24 hours before the tour to confirm it)
Please note that the weather conditions can be severe and the tour might be cancelled; sightings cannot be guaranteed even if the tour is operated; in such case, another tour will be offered free of charge
Transportation and assistance included
Golden Circle Tour
Travellers are invited to see Iceland's natural phenomena including hot springs, waterfalls as well as the country's best-known historical sites. The tour starts with a visit to the geothermal area of Nesjavellir, and continues with a stop at Þingvellir National Park. Highlights include a stopover at the tumbling Gullfoss waterfall, followed by a lunch break at Gullfoss Cafe or at the local Information Centre. Participants can also admire Geysir and Strokkur geysers, the Skálholt church and the horticultural village of Hveragerði.
Please note that depending on weather conditions, visits to Nesjavellir cannot be guaranteed in the winter season
Blue Lagoon Transfers
Those who prefer thermal escapades can visit the famous Blue Lagoon. Travellers can take a leisurely stroll or spend a day idling in the natural hot springs and bathing in geothermal mud believed to revitalise the skin. Towels and robes are available to hire, and each al fresco pool also comes with views of the lava field surrounding the area. On-site geothermal sauna and spa offer a wide range of massages and treatments, while unique skin care products can be bought in the shop.
Includes transfers
Admission fee not included
Time of departures will be confirmed at the time of booking
Whale Watching Tour
This tour serves as an opportunity to enjoy a boat ride in search of whales swimming close to the Icelandic coastline. Some of the whale types that can be spotted include white-beaked dolphins, harbour porpoises, humpback whales, and the killer whales or orcas. Participants can learn more about these animals, see genuine whale teeth and bones, and discover some ocean specimens through a microscope.
Groupon's Guide To Reykjavik
One of the safest and cleanest cities of modern times, Reykjavik is located on the south-western coast of Iceland and it is also the world's northernmost capital city.
With more than 100 pubs and clubs, many of them found on Laugavegur Street, a wide choice of beers, Iceland's drink of choice since 1989, are available for sampling. An iconic landmark of the city, the looming Hallgrimskirkja Church offers visitors panoramic views of the city. Standing 15 metres high and weighing 25 tons, the church's pipe organ is one of its key features, while the statue of Leifur Eiriksson, the first European to discover America, guards the entrance. The capital's name translates to 'Smoky Bay', after the columns of steam that rise from the hot springs, which can still be visited today.
Reykjavik has a subpolar oceanic climate combined with temperate features due to the warm waters of the Gulf Stream. Global warming makes for a convenient climate, and although there are occasional droughts, visitors may benefit from 24 hours of daylight. Autumn is expected to be wet and cold, with temperatures under 10°C while the days are getting shorter and rainfall becomes frequent. During winter, the sky is cloudy with only four hours of daylight and the weather is cold with temperatures ranging from -3° to 2°C.
Options
Option 1: stay with Dublin flights and the Northern Lights Tour
€249-€299 for 2 nights, depending on dates chosen
€329-€369 for 3 nights, depending on dates chosen
€379-€419 for 4 nights, depending on dates chosen
€439-€469 for 5 nights, depending on dates chosen
Option 2: stay with Dublin flights and 2 tours (Northern Lights and Golden Circle)
€389-€429 for 3 nights, depending on dates chosen
€439-€479 for 4 nights, depending on dates chosen
€499-€529 for 5 nights, depending on dates chosen
Option 3: stay with Dublin flights and 3 tours (Northern Lights, Blue Lagoon Transfers and Golden Circle tours)
€424-€464 for 3 nights, depending on dates chosen
€474-€514 for 4 nights, depending on dates chosen
€534-€564 for 5 nights, depending on dates chosen
Option 4: stay with Dublin flights and 4 tours (Northern Lights, Blue Lagoon Transfers, Golden Circle and Whale Watching tours)
€574-€614 for 4 nights, depending on dates chosen
€634-€664 for 5 nights, depending on dates chosen
Please Note: availability at the advertised rates is extremely limited.
*Per Person Offer
Customers must purchase two vouchers to complete the booking
Reykjavík
Sidumula 19

Terms and Conditions
Cancellation Policy: No modification or cancellation allowed after booking confirmation. Bookings are non-refundable and non-transferable to another destination once confirmed. Validity: Valid for arrivals on selected dates from Sep 2018 to Jan 2019. Price per person (pp) based on double occupancy. You must buy 2 vouchers min. to complete booking. If you want to travel alone, single supplements will apply based on the departure date and time. Please enquire with the Travel Provider at the time of booking. Validity period depends on option purchased (date and number of nights). Booking: Must book within 7 days after voucher purchase or at least 20 days ahead of departure. Booking required by phone: 012469696 or via online form. Attach your coupon there. You will receive confirmation of your reservation by the merchant by email after filling out the online form. Book your place immediately after buying the voucher to confirm holiday and avoid disappointment. Purchasing the voucher does not guarantee the holiday, customers must book before travel and not possible to just turn up. Confirmations will be sent out within 3 working days from the date the booking is completed with the Travel Provider. Limit of 4 vouchers per person. May buy extra as gifts but cannot buy more to extend the deal. Transportation details: The hotels are located in Reykjavik, Iceland. Valid for direct flights from Dublin airport to Reykjavik airport. Travel documents to be received up to 1 day before departure. You must go with your boarding pass printed at the airport, at the risk of having to pay additional charges. Depending on flight schedules and transfers, the first or the last night might not be entirely spent in the hotel. Flight departure points, dates and hours are subject to availability. This is a special offer and is based on specific flight times, dates, airlines and airports and will be advised at the time of booking with the Travel Provider. If the featured hotel is unavailable, a hotel of similar or higher standard will be offered to customers at the time of booking. Flights times range from outbound 10.45am-5.10pm, inbound 6:15am-midday, alternatives may attract a supplement which will be confirmed at time of booking. Hand luggage: included in the WOW airfare is one small personal item up to a maximum of 42 x 32 x 25cm/ 17 x 13 x 10in (10kg/22 lbs), including handles and wheels, such as a small bag/backpack, laptop or a camera bag. Hold luggage: not included but can be booked with the Travel Provider at the time of booking. Cost for extra luggage: always depends on the airline and will be advised at the time of the booking by the Travel Provider. Not included: in-flight meals. Included: airport taxes. Other Information: City tax: €2.70 city tax per person per night at Arctic Comfort Hotel. No city tax at Cabin Hotel. A valid passport is mandatory. Valid for stay in standard double or twin room. *Price from €249, per person, based on standard double or twin room occupancy. Vouchers sold by Groupon International Travel GmbH.