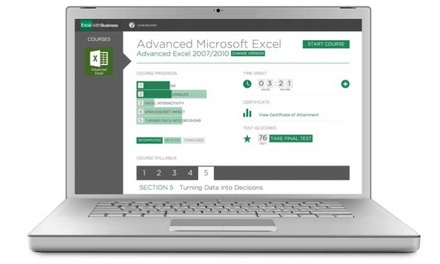 Clients can benefit from an online course covering Excel's basic or advanced features, with content accessible 24 hours a day for 12 months
Price: €22.00
Value: €59.00
Discount: 63%
You save: €37.00
Description
Choose from Four Options
€22 for an advanced Excel online course (63% off)
€22 for a standard Excel online course (63% off)
€32 for standard and advanced Excel online courses (73% off)
€49 for a business analysis online course with standard and advanced Excel online courses (72% off)
Examples of standard modules:
Foundation
Orientation and efficiency
Administration
Data handling
Data analysis
Presentation
Click here to see the full syllabus.
Examples of advanced modules:
Design and risk
Advanced techniques
Excel interactivity
Spreadsheet impact *Turning data into decisions
Click here to see the full syllabus.
Examples of business analysis modules:
Introduction
The business analyst's Excel toolbox
Collecting and managing business data
Communicating a message
Winning charts for business communication
Looking inside the data
Comparing business scenarios
Looking outside the data
Ending
Click here to see the full syllabus.
Excel with Business
Excel with Business offers a selection of online courses for businesses or individuals looking to improve their skills in various programmes. Initially started to help make the business use of analytical tools more accessible, the company now offers courses ranging from basic Microsoft Office components to accounting, app design or even beauty treatments.
Terms and Conditions
Validity: Must redeem by 24 Sep 2018. Course content available for 12 months from registration date. 
Purchase: Limit 1 per person. May buy 4 additional as gifts. 
Restrictions:  Register online: https://excelwithbusiness.com/redeem/. No refunds or cancellation once log in details have been provided. Internet connection and Excel software are required. Valid on option purchased only. Certified by CPD UK. EwB course materials provide knowledge and practical skills for development capability to use spreadsheets in line with the Levels 1-3 ITQ qualification.
Original values:  Verified using our merchant's website on 14 Mar 2018.