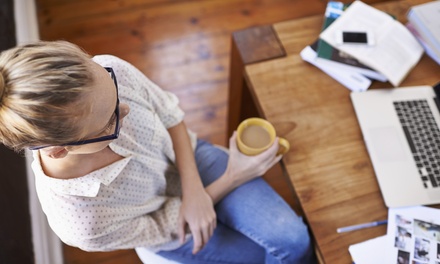 Participants can learn to get their content out there with the use of blogging and vlogging tools, including tips on how to make money
Price: €14.00
Value: €79.00
Discount: 82%
You save: €65.00
Description
Choose from Three Options
€14 for a blogging online course (82% off)
€14 for a vlogging online course (82% off)
€22 for blogging and vlogging online courses (86% off)
The syllabus of the blogging online course includes:
Blogging basics 
How to set up a blog 
How to choose a blog topic 
How to write captivating content 
How to make money from blogging 
Networking with other bloggers 
How to use social media
How to make effective use of images and other visual media 
Using a blog to attract new customers to an existing business 
Safety and security issues
See the full syllabus.
The syllabus of the vlogging online course includes:
Introduction to vlogging 
Famous vloggers 
Vlogging platforms 
Equipment for vlogging 
Different types of vlogging 
Secrets of videotaping indoors and outdoors 
Editing vlogs 
Creating an on-screen presence 
Creating a vlogging channel 
Growing and promoting a vlogging audience and making money as a vlogger
See the full syllabus.
Terms and Conditions
Validity: Must redeem by 29 Oct 2018. Course content available for 12 months from registration date. 
Purchase: Limit 1 per person. May buy 4 additional as gifts. 
Restrictions:  Register online: https://newskillsacademy.co.uk/redeem-a-voucher/. No refunds or cancellation once log in details have been provided. Internet connection required. Merchant's certificate of completion included for successful participants.
Original values:  Verified using our merchant's website on 9 Apr 2018.