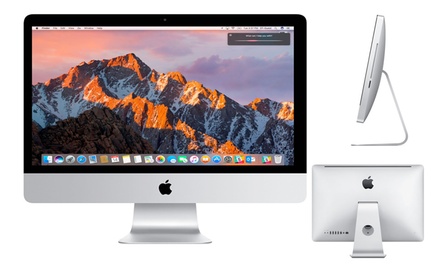 This refurbished iMac, featuring Intel Core i3 CPU and a 21.5'' LCD display is ideal for work or entertainment
Price: €530.00
Value: €530.00
Discount: 0%
You save: €0.00
Description

Today's Groupon offers a refurbished Apple iMac 21.5'' with 4, 8 or 16GB RAM, distributed by Computer Remarketing Services.
CPU: Intel Core i3, 3.06GHZ
LCD 21.5'' display
500GB hard-disk drive
RAM: 4, 8 or 16GB
Smart DVD
Built-in webcam
Pre-installed operating system: macOS Sierra (10.12)
One year RTB manufacturer's warranty
The iMac is in perfect working order. As the item has been used before, it might show signs of wear and tear.
To ensure we have your most up to date details please add your new postcode to your address details. If you do not know your postcode you can identify it using this link
Terms and Conditions
Delivery: Free. Allow 8 working days (Monday to Friday).
Your order: Your voucher will be redeemed by Groupon on your behalf with Computer Remarketing Services, who will fulfill the order. Order will be dispatched to the delivery address entered at checkout. Delivery address cannot be amended after order is placed.
Further information: By purchasing a Groupon, you are purchasing a voucher for the products as described above. The order will be fulfilled by Computer Remarketing Services. For queries contact: http://crs-uk.biz/support/contact.htm. For more information on Direct Checkout, pricing and delivery, see the FAQ. Returns: Computer Remarketing Services Ltd Unit 2 Maryland Road Milton Keynes MK15 8HF UK .