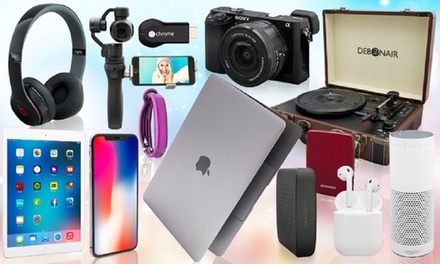 Standard or deluxe packs of goodies with a range of tech products which are randomly selected for both, men and women
Price: €12.99
Value: €12.99
Discount: 0%
You save: €0.00
Description
Purchasers will receive a randomly allocated product or bundle from the list below:
Standard
2XL Offset in-ear headphone, round universal magnetic phone holder, 1m braided cable
Flashing beeper key ring, 2XL Offset in-ear headphone, light-up cable
2XL offset in-ear headphone in pink, Pny 4000mAh power bank
Bamboo holder, Ifrogz audio intone with a mic in orange, round car mount
Ipad Mini
Google Chromecast
Beats headphones
Retro turntable
Jawbone Up2
Refurbished iPad
Beats Solo 2s
Cobra Airwave 360 speaker
Deluxe
Aluminium dock for iPhone, power bank gift set
Pirelli Zero in-ear sports headphones, aluminium dock for iPhone, round car mount
Aluminium dock for iPhone, XS40 earbud in pink, selfie props on a stick (31 pieces)
Fast car charger, mini pocket selfie stick, Vibe Slick On over-ear headphones
Macbook
Amazon Echo
iPhone X
Amazon Alexa Speaker
Samsung hard drive
Debonair Airboard
Beats Pill
Withing fitness tracker
To ensure we have your most up to date details please add your new postcode to your address details. If you do not know your postcode you can identify it using this link
Terms and Conditions
Delivery: €2.49 (not included). Allow 8 working days (Monday to Friday).
Your order: At checkout you will be prompted to enter a delivery address. Delivery address cannot be amended after order is placed.
Further information: Products sold by Groupon Goods Global GmbH. For this deal the Terms of Sale and the Returns Policy of Groupon Goods Global GmbH are applicable. For more on Groupon Goods Global GmbH, see the FAQ.