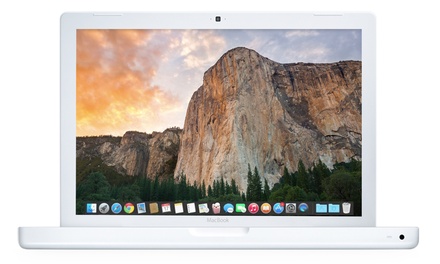 Featuring a 13.3 inch display and an Intel Cor 2 Duo processor, this refurbished Apple MacBook Air also has a built in webcam and microphone
Price: €212.00
Value: €212.00
Discount: 0%
You save: €0.00
Description

Today's Groupon offers a refurbished Apple 13.3" MacBook Air, distributed by Computer Remarketing Services.
Intel Core 2 Duo 2GHz processor
Intel GMA 950 graphics processor
2GB or 4GB RAM memory
80GB or 160 GB HDD drive
DVD-RW station
13.3 inch display (1280 x 800 resolution)
Built-in webcam
Built-in microphone
Battery lifetime: minimum 30 minutes
QWERTY keyboard
Apple Mac OS X 10.7.2 installed, upgrade to newer OS is not possible
Includes 1 year warranty
Laptop may contain some scratches, hairline cracks or palmrest wear and tear
Connectivity
AirPort (802.11 a/b/g/n)
Bluetooth 2.0 + EDR
USB 2.0 ports (two)
Firewire 400 port
Mini DVI port
Ethernet port
S-Video port
Headphone port
To ensure we have your most up to date details please add your new postcode to your address details. If you do not know your postcode you can identify it using this link
Terms and Conditions
Delivery: Free. Allow 7 working days (Monday to Friday).
Your order: Your voucher will be redeemed by Groupon on your behalf with Computer Remarketing Services, who will fulfill the order. Order will be dispatched to the delivery address entered at checkout. Delivery address cannot be amended after order is placed.
Returns and queries: You are responsible for the return shipping costs of the product to Computer Remarketing Services if you cancel your purchase during the 14 day withdrawal period. For how to return, click here. For queries contact: http://crs-uk.biz/support/contact.html. Returns: Computer Remarketing Services Ltd, Unit 2, Maryland Road, Milton Keynes, MK15 8HF, UK.