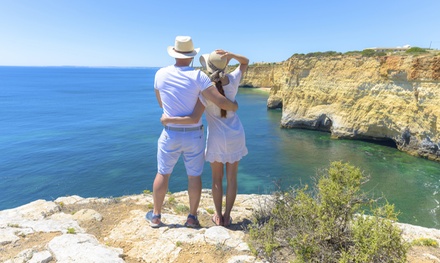 Price: €119.00
Value: €119.00
Discount: 0%
You save: €0.00
Description
The Hotels
The four-star Hotel Apartamento Balaia Atlantico awaits tourists just outside Albufeira. Located less than 2km from Albufeira's old town and Praia dos Pescadores Beach, Pateo Village allures tourists with an array of sandy beaches and entertainment options for children and adults alike.
Situated just 550 metres from the coast, the four-star HTOP Caleta Palace boast direct access to the beach await travellers in a popular, vibrant resort of Platja D'Aro.
Placed in the Vistahermosa residential area, about 3km from the centre of Alicante, Daniya Alicante offers an ideal base for exploring the local area.
Located just 250m from Carihuela Beach, Arcos de Montemar invites tourists to bask in the sun and enjoy rich cultural heritage and sport attractions of Costa del Sol.
Groupon's Guide To Algarve
Algarve, the southernmost region of Portugal, attracts visitors from around the world with sandy beaches and dramatic cliffs, and tops dusted in whitewashed Portuguese houses with terracotta-tiled roofs.
Visitors may explore the town of Lagos, where cobbled streets are lined with restaurants, bars, and clubs, and the coast offers prime spots for afternoon basking. While in town, they may stop by Castelo de Silves and admire its Moorish design, impressive cistern, and red brick interiors that may date back as far as the 11th century. For a slower paced activity, the hill town of Monchique offers an insight into the traditional side of Portugal, where mule carts trot by, and traffic lights are rarely seen. Sightseers can take in the coastline of the Portimao Marina before enjoying some downtime at one of the nearby restaurants, shops and bars.
Groupon's Guide To Costa Brava
Also known as Spain's Wild Coast, Costa Brava offers visitors a mixture of old-world Catalonian charm, modern day excitement and Mediterranean dining opportunities. With some of the finest Blue Flag beaches in Europe, water sports enthusiasts can make the most of sailing, swimming, diving, and jet-skiing opportunities.
Historic sights and museums are aplenty in the Costa Brava region, as well as the ancient Greek and Roman ruins which can be found outside the seaside town of L'Escala. A leisurely day out may be spent in the fortified hilltop town of Begur, where tourists may stroll along winding cobbled streets featuring Moorish and colonial townhouses, quaint bars and high-end boutiques. Just outside Cadaqués, in a converted fishermen's cottage, the Salvador Dali House Museum can be visited, while below the hilltop castle in Palafrugell, the Cap Roig Botanical Gardens allure with cascading terraces, cactus plants and coastal views.
Groupon's Guide To Costa Blanca
Set in eastern Spain, with over 200 kilometres of Mediterranean coastline, Costa Blanca is renowned for its tourism opportunities, golf courses and stretches of white sandy beaches that give its name.
Alicante is the second most mountainous province in Spain, boasting archaeological sites, secluded valleys, ravines, and a wealth of beaches including Levante and Poniente. In Benidorm, travellers may discover a part of Spanish culture in the Old Town area boasting cobbled streets and old pieces of architecture, or savour local dishes at one of the many restaurants on the Tapas Alley. In the coastal resort of Javea, nightlife opportunities abound in the Arenal and port area, where night owls may pass the time, while adrenaline rushers may enjoy climbing or hiking at the Montgo Natural Park, ranked 1 out of 10 attractions in Javea on Tripadvisor. Costa Blanca has a subtropical Mediterranean climate with around 3000 hours of sunshine per year. Summers are hot and dry with temperatures reaching 32°C, autumns are wet with 4 to 6 days of rain each month, while winters are cool to mild with an average temperature of 16°C.
Groupon's Guide To Malaga
With a rolling mixture of hills, wild parks and natural reservations on Costa del Sol, Malaga allures tourists to an exotic resort defined by sandy beaches and the mountainous landscapes of Montes de Malaga.
The historic city of Malaga is a symbol of artistic and cultural heritage, where travellers may admire imposing examples of architecture that still guard the city streets. Tourists may witness the grand diversity of cultures and civilisations that have shaped the face of the city over the years, ranging from the 11th-century medieval fortress of Alcazaba to Renaissance legacies such as the Church of Santiago and Santa Maria la Mayor.
Man-made wonders intermingle with nature's art works, brushing up the general setting with tropical beaches and natural parks that spread upon the region, offering a multitude of itineraries to follow. Dazzling in the hot sun of Artola beach, hiking in the deep pine forests of Pinar del Hacho or strolling through the iconic suburban parks of Archidona are just a few things that can be marked down on a holiday to Malaga.
Options
Option 1: Algarve
€119-€389 for 3 nights, depending on dates chosen
€129-€489 for 4 nights, depending on dates chosen
€169-€579 for 7 nights, depending on dates chosen
Option 2: Costa Brava
€129-€289 for 3 nights, depending on dates chosen
€159-€529 for 4 nights, depending on dates chosen
€199-€599 for 7 nights, depending on dates chosen
Option 3: Costa Blanca
€159-€299 for 3 nights, depending on dates chosen
€179-€329 for 4 nights, depending on dates chosen
€249-€399 for 7 nights, depending on dates chosen
Option 4: Costa Del Sol
€159-€389 for 3 nights, depending on dates chosen
€189-€459 for 4 nights, depending on dates chosen
€249-€529 for 7 nights, depending on dates chosen
*Per Person Offer
Customers must purchase two vouchers to complete booking
Please Note: availability at the advertised rates is extremely limited.
Algarve
Hotel Apartamento Balaia Atlantivo, Urbanização Vale Navio Lote 101, 8200-193 Albufeira

Terms and Conditions
Cancellation Policy: No modification or cancellation allowed after booking confirmation. Bookings are non-refundable and non-transferable to another destination once confirmed. Validity: Valid for arrivals on dates from Apr to Oct 2018. Price per person (pp) based on double occupancy. You must buy 2 vouchers min. to complete booking. If you want to travel alone, single supplements will apply based on the departure date and time. Please enquire with the Travel Provider at the time of booking. Validity period depends on option purchased (date and number of nights). Booking: Must book within 7 days after voucher purchase or at least 20 days ahead of departure. Booking required by phone: 012469696 or via online form: here. Attach your coupon there. You will receive confirmation of your reservation by the merchant by email after filling out the online form. Book your place immediately after buying the voucher to confirm holiday and avoid disappointment. Purchasing the voucher does not guarantee the holiday, customers must book before travel and not possible to just turn up. Confirmations will be sent out within 3 working days from the date the booking is completed with the Travel Provider. Limit of 4 vouchers per person. May buy extra as gifts but cannot buy more to extend deal. Transportation details: The hotels are located in Albufeira (Portugal); Platja d'Aro, Alicante and Torremolinos (Spain). Valid for direct flights from Dublin airport to Algarve (FAO), Costa Brava (BCN), Costa Blanca (ALC) or Costa Del Sol (AGP) airports. Travel documents to be received up to 1 day before departure. You must go with your boarding pass printed at the airport, at the risk of having to pay additional charges. Depending on flight schedules and transfers, the first or the last night might not be entirely spent in the hotel. Flight departure points, dates and hours are subject to availability. This is a special offer and is based on specific flight times, dates, airlines and airports and will be advised at the time of booking with the Travel Provider. If the featured hotel is unavailable, a hotel of similar or higher standard will be offered to customers at the time of booking. Hand luggage: up to 10kg per person included. For hand luggage policy check here. Hold luggage: not included but can be booked with the Travel Provider at the time of booking. Cost for extra luggage: always depends on the airline and will be advised at the time of the booking by the Travel Provider. Not included: in-flight meals. Included: airport taxes. Other Information: City tax: € 0.99 city tax per person per night at H·TOP Caleta Palace. No city tax at Hotel Apartamento Balaia Atlantico, Pateo Village, Daniya Alicante and Arcos de Montemar. A valid passport is mandatory. Valid for stay in standard double or twin room. *Price from €119, per person, based on standard double or twin room occupancy. Vouchers sold by Groupon International Travel GmbH.