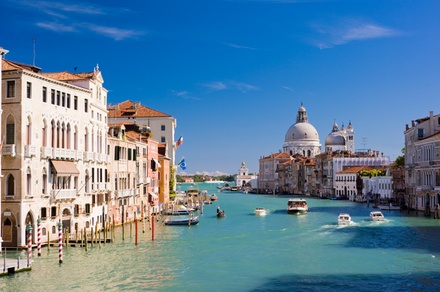 Price: €199.00
Value: €199.00
Discount: 0%
You save: €0.00
Description
The Hotels
Situated in a quaint district of Rome, just a short drive from the city centre, Romoli Hotel offers contemporary accommodation, an on-site bar and a charming rooftop garden with panoramic views. Guests can unwind in air-conditioned rooms which are kitted out with flat-screen TVs and en suite bathroom facilities.
Located in the old town of Mestre, Hotel Centrale boasts classic decor and quick access to the attractions of Venice. Relaxation can be enjoyed in air-conditioned rooms which come complete with satellite TVs and bathrooms with hairdryers.
Set just 10 minutes from the Grand Canal, Hotel Piave awaits travellers in the district of Mestre, a short ride from the landmarks of Venice. Decorated in traditional style, the rooms come complete with private bathrooms, TVs, air conditioning, and hairdryers.
Located in the village of Lido, just a short walk from the beach, Hotel La Meridiana allures guests with a traditional Italian charm. The hotel offers accommodation in spacious rooms which are kitted out with TVs, minibars, safes, and private bathrooms with hairdryers. Guests can also enjoy a drink or two in the hotel's bar and take a 20-minute boat ride to the famous St. Mark's Square, one of the Venice's landmarks.
Itinerary
Outbound: flight from Dublin to Rome and stay in Rome (2 or 3 nights, depending on option chosen)
Internal direct train from Rome to Venice and stay in Venice (2 or 3 nights, depending on option chosen)
Inbound: flight from Venice to Dublin
Tours (Optional)
Vatican Museums Entry
Travellers are invited to embark on a journey through art and religious history with a skip-the-line escorted entry to the Vatican Museums, Sistine Chapel and St. Peter's Basilica. Founded in the early 16th century, Vatican Museums are home to the Papal collections of the most renowned classical sculptures and most important masterpieces of Renaissance art in the world. Visitors can see elaborately carved sarcophagi of the Greek Cross Gallery, marvel at the Renaissance masterpieces in the Raphael Rooms and finally tiptoe through Michelangelo's exquisite Sistine Chapel, the crown jewel of the Vatican. At the end, tourists can also pay a visit to St. Peter's Basilica, home of the world-famous Pieta.
Venice Gondola Ride
Holidaymakers are invited to take a sojourn along the city's most secluded waterways passing under small bridges, including the famous Bridge of Sighs, and embrace the one-of-a-kind ambiance while indulging in the views of the majestic palaces and other famous landmarks.
Max. 6 people per gondola
Children under 5 are not allowed on the gondola
Groupon's Guide To Rome
From famous historic sites to relatively obscure catacombs, basilicas, fountains and museums, the Eternal City has many things to offer, as historic landmarks go hand in hand with the vibrant city nightlife.
Passing through old cobblestone streets, visitors can catch a glimpse of Rome's main attractions such as the Pantheon, one of the best kept classical architecture buildings in the world, the iconic Trevi Fountain and the Vatican Museums. Sweeping views over the city can be captured on film and camera from the Spanish Steps, where holidaymakers can unwind over a prosciutto panini or a gelato after a day of exploring numerous shops and markets. Nestled beneath the Vatican walls, the Prati district mixes elegant office buildings with high-end boutiques and public squares, while imposing military barracks and Museo delle Anime dei Defunti provide a unique experience. Tourists can also get a taste of a typical Italian night out by visiting local restaurants, bars and clubs and enjoying a classic pizza or pasta. Rome has a Mediterranean climate with hot summers and rainy winters. From June to September the average temperature is 27°C, and may go as high as 30°C in July and August, with ten hours of sunshine a day. October and November are the wettest months of the year, while weather in December is often overcast, cool and rainy, with average temperatures dropping to 10°C.
Groupon's Guide To Venice
The capital of the Veneto region, listed as a World Heritage Site, Venice is set on a group of 118 small islands separated by a labyrinth of canals and linked by century-old bridges. Collonaded squares, domes and arches can be seen while on a sleek motorboat or during a gondola ride that will carry visitors through the city's main waterways.
Tourists shouldn't miss out on the opportunity to visit the Doge's Palace, a symbol of the republic's wealth and mastery over land and sea. On the eastern end of St. Mark's Square, the world-renowned Byzantine basilica has become a landmark of the city with its four bulbous domes and golden mosaics. Throughout the cobbled streets, there are countless shops where travellers can pick out unique handmade masks painted according to the 800-year-old Venetian tradition. Venice has a humid subtropical climate characterised by warm summers and cold winters. The sky is clear, with a moderate level of sunshine that invites holidaymakers to visit the city during autumn, while winter months bring an average high temperature of 6°C and three hours of sunshine per day.
Rome
Albergo Athena Hotel, Via Ercole Pasquali 3, Tiburtino

Terms and Conditions
Cancellation Policy: No modification or cancellation allowed after booking confirmation. Bookings are non-refundable and non-transferable to another destination once confirmed. Validity: Valid for arrivals on dates from Apr to Oct 2018. Price per person (pp) based on double occupancy. You must buy 2 vouchers min. to complete booking. If you want to travel alone, single supplements will apply based on the departure date and time. Please enquire with the Travel Provider at the time of booking. Validity period depends on option purchased (date and number of nights). Booking: Must book within 7 days from voucher purchase and at least 20 days before departure. Booking required by phone 012 469 696 or via online form. Attach your coupon there. Confirmations will be sent out within 3 working days from the date the booking is completed with the Travel Provider. Limit of 4 vouchers per person. May buy extra vouchers as gifts but not to extend the stay. Transportation details: Valid for direct return flights from Dublin to Rome (CIA/FCO) and from Venice (VCE/TSF) to Dublin. Internal train tickets between Rome and Venice included. Travel documents to be received up to 1 day before departure. You must go with your boarding pass printed to the airport, at the risk of having to pay additional charges. Depending on flight schedules and transfers, the first or the last night might not be entirely spent in the hotel. Flight departure points, dates and hours are subject to availability and cannot always be guaranteed. Supplements may apply if busy dates get overbooked and you must always purchase the Groupon Voucher first. Only up to 10 kg of hand luggage per person included. Check-in bags can be added depending on carriers' charges. Cost will be advised at the time of booking by the travel provider. Not included: in-flight meals and airport transfers. Airport taxes included. Other Information: The hotels are located in Rome and Venice; Italy. Excluded city tax of €4 at Romoli Hotel and Albergo Athena, €2.40 at Centrale Hotel, and €2.80 at La Meridiana, per person per night, payable to the hotels directly. For child/infant policy please enquire when booking. A valid passport is mandatory. Valid for stay in a standard double or twin room. *Price from €199, per person, based on double room occupancy. Vouchers sold by Groupon International Travel GmbH.