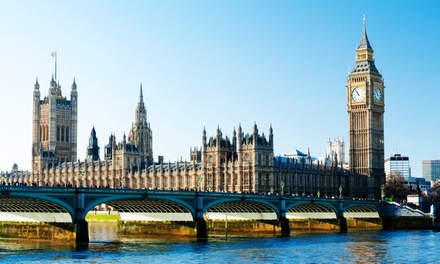 Price: €299.00
Value: €299.00
Discount: 0%
You save: €0.00
Description
The Hotels
Located just a 3-minute walk from Earl's Court Underground Station, 1.4km from the Natural History Museum and 3.1km from Hyde Park, ibis Styles London Kensington serves as a suitable base for exploring the city's main attractions. The rooms come complete with en suite bathrooms, flat-screen TVs and tea- and coffee-making facilities. On site amenities include a bar.
Troy Hotel is situated in Bayswater district, a 2-minute walk from Kensington Gardens, and a 3-minute walk from Queensway Underground Station bringing visitors closer to the main city landmarks. Guests can unwind in rooms which are kitted out with flat-screen TVs and en suite bathroom facilities.
Placed in the centre of Bruges, in close proximity to 500m from Market Square and 3.5km from Boudewijn Seapark, Europ Hotel invites tourists to enjoy rich cultural and historical heritage of the city. The rooms feature en suite bathrooms with hairdryers, TVs, desks and sitting areas. On-site facilities include a restaurant and a bar.
Itinerary
Flight from Dublin to London
2 or 3 nights in London
Eurostar train transfer from London to Bruges
2 or 3 nights in Bruges
Flight from Brussels to Dublin
Groupon's Guide To London
Travellers are invited to explore the vibrant city of London, famous for its attractions ranging from World Heritage Sites to modern hotspots such as the local cable car. In this capital city, a multitude of elegant theatres, alluring museums and galleries, verdant parks, inviting restaurants and world-leading shops are up for grabs.
Visited by up to six million people a year, the 18th-century British Museum is a world-class attraction which houses a remarkable collection spanning over two million years of world and human history, including the Rosetta Stone, Parthenon sculptures, and Egyptian mummies. With eight Royal Parks, travellers may retreat from the capital's hustle and bustle, and enjoy a wide range of leisure facilities including swimming, boating, cycling, tennis, horse riding and live shows. Culture seekers may also enjoy a long-running musical, classic play or new debut at the famous West End Theatre, while sports fans may visit the Wembley Stadium, Lord's Cricket Ground or Wimbledon Lawn Tennis Museum. This metropolis may also be admired from above while enjoying a ride in the world-renowned London Eye. Back on the ground, tourists may head to Buckingham Palace, the administrative headquarters of the Monarch, boasting 775 rooms and plenty of public spaces for guests to explore such as The State Rooms, The Picture Gallery and The Garden Cafe. Days may also be spent visiting Madame Tussauds wax museum, while a complete shopping experience may be enjoyed in Oxford Street or at one of the city markets.
Groupon's Guide To Bruges
With numerous market squares, medieval brick buildings and canals, Bruges takes travellers for a leap through time back to the Middle Ages of north-west Belgium.
The historic centre of Bruges has been designated a UNESCO World Heritage Site, as Gothic landmarks such as the Town Hall and The Church of Our Lady illustrate significant stages in the commercial and cultural fields in medieval Europe. The artistic heritage is present throughout Groeninge Museum, housing six centuries of Flemish and Belgian paintings, while the Bruges Art Route may be the star of a cycling tour through the city's growing collection of paintings, sculptures and works-in-progress. Visitors with a sweet tooth will find chocolate-filled display windows all over town, and the Choco-Story provides an insight into the history and making of this cocoa treat.
Weather in the medieval city of Bruges consists of a moderate climate, with hot summers and colder winters. The best season to visit Bruges is summer, with an average temperature range between 13-21°C. August is considered the hottest month, but the temperature hardly climbs to 22°C. The colder season starts in September but becomes unpredictable in late December and January; Bruges gets some shorter days with a very poor level of sunshine during this period.
London
15-25 Hogarth Road

Terms and Conditions
Cancellation Policy: No modification or cancellation allowed after booking confirmation. Bookings are non-refundable and non-transferable to another destination once confirmed. Validity: Valid for arrivals on dates from Apr to Dec 2018. Price per person (pp) based on double occupancy. You must buy 2 vouchers min. to complete booking. If you want to travel alone, single supplements will apply based on the departure date and time. Please enquire with the Travel Provider at the time of booking. Validity period depends on option purchased (date and number of nights). Booking: Must book within 7 days after voucher purchase or at least 20 days ahead of departure. Booking required by phone: 012469696 or via online form here. Attach your coupon there. You will receive confirmation of your reservation by the merchant by email after filling out the online form. Book your place immediately after buying the voucher to confirm holiday and avoid disappointment. Purchasing the voucher does not guarantee the holiday, customers must book before travel and not possible to just turn up. Confirmations will be sent out within 3 working days from the date the booking is completed with the Travel Provider. Limit of 4 vouchers per person. May buy extra as gifts but cannot buy more to extend deal. Transportation details: The hotels are located in London (UK) and Bruges (Belgium). Valid for direct flights from Dublin airport to London Gatwick, Stansted or Luton airports. Return flight from Brussels airport to Dublin airport. Travel documents to be received up to 1 day before departure. You must go with your boarding pass printed at the airport, at the risk of having to pay additional charges. Depending on flight schedules and transfers, the first or the last night might not be entirely spent in the hotel. Flight departure points, dates and hours are subject to availability. This is a special offer and is based on specific flight times, dates, airlines and airports and will be advised at the time of booking with the Travel Provider. If the featured hotel is unavailiable, a hotel of similar or higher standard will be offered to customers at time of booking. Hand luggage: up to 10kg per person included. For hand luggage policy check: here Hold luggage: not included but can be booked with the Travel Provider at the time of booking. Cost for extra luggage: always depends on the airline and will be advised at the time of the booking by the Travel Provider. Not included: in-flight meals. Included: airport taxes. Other Information: City tax: € 2.12 city tax per person per night at Europ Hotel. No city tax at ibis Styles London Kensington and Troy Hotel. A valid passport is mandatory. Valid for stay in standard double or twin room. *Price from €299, per person, based on standard double or twin room occupancy. Vouchers sold by Groupon International Travel GmbH.