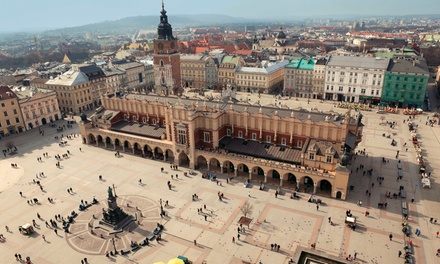 Price: €119.00
Value: €119.00
Discount: 0%
You save: €0.00
Description
The Hotels
Set in the heart of the city, Emaus Apartments make for an excellent point for exploring what Krakow has to offer. Guests can make themselves at home staying in the tastefully decorated apartments which feature kitchenettes and private bathrooms. The apartments are located near the Blonie Park, while the famous Market Square is within a walking distance.
Nestled in the Old Town district of Krakow, just a short stroll from numerous historic attractions of the city, such as Barbakan, Brama Floriańska, and St. Mary's Basilica, Apartament Kornelia welcomes guests with spacious apartment-style accommodation complete with modern facilities. The apartments feature bright interiors and large windows, as well as fully-equipped kitchenettes, spacious living areas and en suite bathrooms. Thanks to its central location, the hotel offers easy access to plenty of local cafes, restaurants, and shops.
Auschwitz-Birkenau Tour
Travellers can opt to visit the UNESCO World Heritage site, the World War II Auschwitz-Birkenau complex, and learn more about the Nazi Holocaust during this full-day trip. A professional guide will tell the stories of individual prisoners at the camp and discuss the liberation of Auschwitz in 1945.
Meeting/pick-up point: 8 Sczepanski Plac (8 Szczepanski Square); please note that the hotel pick up is free of charge but on request – please contact reservation department 48 hours in advance and up to 24 hours before the tour to confirm the exact pick-up time from the hotel
Please wear appropriate attire
Groupon's Guide To Krakow
The storied city of Krakow turned into a cosmopolitan centre over the centuries, inviting tourists to traditional charm market squares, riverside castles and museums alongside a wide range of bars and clubs.
The cultural capital of Poland provides art admirers with plenty of galleries to visit, from the Bunkier Sztuki to the Starmach and the Pauza galleries, all featuring innovative works from breaking Polish painters, sculptors and graphic designers. Classical music lovers will enjoy the wide range of concerts and spectacles available at the Krakow Philharmonic and the Krakow Opera, while seekers of other cultural opportunities will be delighted by annual standouts like the Street Theatre Festival, the Jewish Culture Festival and the Krakow Film Festival. Refined pastimes come complemented by numerous bars, pubs, cafes and riverboat dining occasions.
The average temperature in the summertime is 20°C, but it often exceeds 25°C, making this period of the year the most enjoyable for visitors. The Polish 'golden autumns' bring soothing weather and temperatures in the mid-teens in September and October, with significant drops in November. Although winters are cold, with average temperatures between -2°C and 0°C, travellers may enjoy a wide range of winter activities.
Options
Option 1: standard
€119-€259 for 2 nights, depending on dates chosen
€159-€279 for 3 nights, depending on dates chosen
€179-€319 for 4 nights, depending on dates chosen
Option 2: with Auschwitz-Birkenau tour
€155-€295 for 2 nights, depending on dates chosen
€195-€315 for 3 nights, depending on dates chosen
€215-€355 for 4 nights, depending on dates chosen
Krakow
Apartamenty Kornelia, Szlak 50, Old Town

Terms and Conditions
Cancellation Policy: No modification or cancellation allowed after booking confirmation. Bookings are non-refundable and non-transferable to another destination once confirmed. Validity: Valid for arrivals on dates from Jun 2018 to Jan 2019. Price per person (pp) based on double occupancy. You must buy 2 vouchers min. to complete booking. If you want to travel alone, single supplements will apply based on the departure date and time. Please enquire with the Travel Provider at the time of booking. Validity period depends on option purchased (date and number of nights). Booking: Must book within 7 days from voucher purchase or at least 20 days before departure – whichever date is closer. Booking required by phone: 012 469 696 or via: online form. Attach your coupon there. Confirmations will be sent out within 3 working days from the date the booking is completed with the Travel Provider. Limit of 4 vouchers per person. May buy extra vouchers as gifts but not to extend the stay. Transportation details: Valid for direct return flights from Dublin to Krakow (KRK). Airlines: Ryanair. Travel documents to be received up to 1 day before departure. You must go with your boarding pass printed to the airport, at the risk of having to pay additional charges. Depending on flight schedules and transfers, the first or the last night might not be entirely spent in the hotel. Flight departure points, dates and hours are subject to availability and cannot always be guaranteed. Supplements may apply if busy dates get overbooked and you must always purchase the Groupon Voucher first. Only up to 10 kg of hand luggage per person included. Check-in bags can be added depending on carriers' charges. Cost will be advised at the time of booking by the travel provider. Not included: in-flight meals and airport transfers. Airport taxes included. Other Information: The apartments are located in Krakow, Poland. No city tax. If the featured hotel is unavailable, a hotel of similar or higher standard will be offered to customers at time of booking. For child/infant policy please enquire when booking. For travel advice, please check here. A valid passport is mandatory. Optional Auschwitz and Birkenau tour: please wear appropriate, respectful attire and note that the maximum size of backpacks or handbags brought into the Museum Auschwitz cannot exceed dimensions of 30 x 20 x 10 cm. Please leave your bags on the bus. The tour is not accessible for wheelchairs." Valid for stay in a standard apartment for 1 person (sharing with another person). *Price from €119, per person, based on double room occupancy. Vouchers sold by Groupon International Travel GmbH.