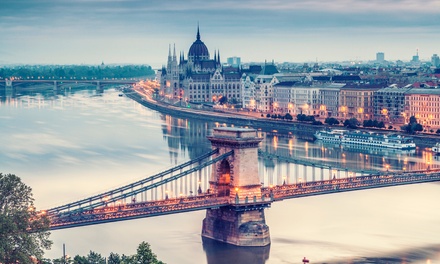 Price: €139.00
Value: €139.00
Discount: 0%
You save: €0.00
Description
The Hotels
The Six Inn Budapest Hotel allures holidaymakers with traditional Hungarian hospitality and proximity to transportation links and high-end shopping centres. Guests can take advantage of rooms fitted out with parquet floors, LCD TVs, minibars, air conditioning, and en suite bathrooms. The hotel offers direct access to the city centre and makes for an ideal base for exploring the capital's attractions.
Also nestled in the heart of Budapest, Medosz Hotel sits close to numerous historic attractions, such as the Opera House and the Saint Stephen's Basilica, as well as to cafes, restaurants and entertainment venues. The nearest metro station is just a short stroll away, providing quick access to the other areas of the city. Guests stay in spacious rooms that come equipped with flat-screen TVs, telephones and private bathrooms.
Private Entry to Széchenyi Spa
Széchenyi Spa is the largest public bath in Budapest, alluring visitors with neo-baroque features. Guests are invited to enjoy a full-day access to a selection of steam rooms, saunas, and spring-fed baths, as well as 18 indoor and outdoor pools. The ticket includes a skip-the-line entry, a personal changing cabin, gift and option to upgrade the experience with a 20-minute aromatherapy massage (subject to an additional charge; please enquire when booking).
Groupon's Guide To Budapest
Budapest, the vibrant capital of Hungary, is a living picture of castles and Neo-Gothic grandeur by day, and a pulsating example of European nightlife by night.
Guests may take a stroll to the historic Lajos Kossuth Square, which plays host to Hungary's coronation crown and ornate Parliament Building, as well as the Museum of Ethnography's folk art displays. After admiring the crown, similar treasures may be found in the City Park, where an enormous flea market brightens up weekends with knick-knacks, clothes and much more, amid grandly landscaped environs. Pocket-dipping sessions may follow with a plunge into the thermal spas of Margaret Island, which complements its riverbank surroundings with fragrant gardens, ornate pavilions and parties of sunbathing locals. The climate in Budapest is continental and humid, with very warm summers and, at times, cold winters. During the hot season, which starts in April and ends in August, the temperature reaches an average of 27ºC. In this period, travellers may take nighttime strolls on the Danube promenade, or enjoy refreshing tipples at one of the city's open-air bars. During the colder seasons, the nights get chillier, but holidaymakers will still be able to explore the city sights under favourable weather conditions until late October. Winter arrives in December and lasts till February, bringing negative temperatures and less than two hours of sunshine per day.
Options
Option 1: standard
€139-€309 for 2 nights, depending on dates chosen
€179-€339 for 3 nights, depending on dates chosen
€199-€369 for 4 nights, depending on dates chosen
Option 2: including private entry to Széchenyi Spa
€165-€335 for 2 nights, depending on dates chosen
€205-€365 for 3 nights, depending on dates chosen
€225-€395 for 4 nights, depending on dates chosen
Please Note: availability at the advertised rates is extremely limited.
*Per Person Offer
Customers must purchase two vouchers to complete the booking
Budapest
Six inn Hotel, 1064 Budapest, Rózsa utca 85.

Terms and Conditions
Cancellation policy: No modification or cancellation allowed after booking confirmation. Bookings are non-refundable and non-transferable to another destination once confirmed. Validity: Valid for arrivals on selected dates from Apr to Dec 2018, depending on the option chosen. Dates are subject to availability. Price per person (pp) based on double room occupancy. You must buy 2 vouchers to complete the booking. For customers who want to travel alone, a single supplement will apply based on departure date and time. Please enquire the travel provider at the time of booking. Validity period depends on option purchased (date and number of nights). Booking: Must book within 7 days of voucher purchase and at least 20 days ahead of departure. Booking required 012469696 or via online form. Attach your coupon there. You will receive confirmation of your reservation from the merchant within 3 working days from the date the booking is completed with the Travel Provider. Book your place immediately after buying the voucher to confirm holiday and avoid disappointment. Purchasing the voucher does not guarantee the holiday, customers must book before travel and it is not possible to turn up without prior booking. Limit of 4 vouchers per person. May buy extra as gifts, but cannot buy more to extend the deal. Transportation details: Valid for direct return flights from Dublin to Budapest. Travel documents to be received up to 1 day before departure. You must have your printed boarding pass at the airport, at the risk of having to pay additional charges. This holiday is an ATOL protected holiday. More info here. Depending on flight schedules and transfers, the first or the last night might not be entirely spent at the hotel. Not included: in-flight meals and hold luggage (hold luggage can be purchased at the time of booking with the merchant, the cost will depend on the airline). Hand luggage of up to 10 kg per person included. A valid passport or EU ID card is mandatory. This is a special offer based on specific flight times, dates, airlines and airports which will be advised at the time of booking with the travel provider. Flight departure points, dates and hours are subject to availability. Flights times range from outbound 5.55am-7.55pm, inbound 10.30am-9.30pm, alternatives may attract a supplement which will be confirmed at time of booking. Other Information: The hotels are located in Budapest, Hungary. Excl. 4% city tax to be paid directly to the hotel directly (percentage of the room rate). Valid for stay in a standard double/twin room for one person (based on two people sharing). Maximum room occupancy: 2 adults. Child policy: please enquire the travel provider at the time of booking. For travel advice, please see https://www.gov.uk/foreign-travel-advice/hungary. *Price from €139, per person, based on double room occupancy. Vouchers sold by Groupon International Travel GmbH.