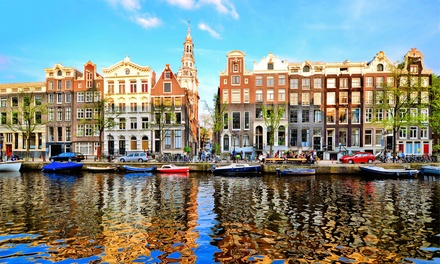 Price: €119.00
Value: €119.00
Discount: 0%
You save: €0.00
Description
The Hotels
Situated just a 10-minute tram ride from Amsterdam's city centre, Hotel King's Court allures travellers with modern decor and a restaurant serving up a variety of dishes. Guests can enjoy a tipple or two at the hotel's bar and unwind in air-conditioned rooms which come complete with flat-screen TVs and en suite bathrooms.
Set near Amsterdam's famous Vondelpark, in the tranquil Oud Zuid district, Hotel Central Park offers a base for exploring the Venice of the North streets, as well as its world-class art galleries and well-known canals. Just a 5-minute tram ride away, tourists can visit the Van Gogh Museum, home to the biggest collection of the artist's paintings. The hotel boasts en suite rooms fitted with flat-screen TVs, a work desk area, hot drink-making facilities and views over the park. An intimate dining room serves hearty morning meals and offers complimentary Wi-Fi for planning a day of sightseeing.
Amsterdam Canal Cruise and Skip-The-Line Heineken Experience Entry (Optional)
With this canal cruise and Heineken experience, travellers can combine two Amsterdam essentials in one day. A 75-minute cruise will take the passengers down the UNESCO-listed canals, passing by the canal houses, bridges, and churches, while the fast-track entry to the Heineken Experience will provide them with more insight into the vintage brewery equipment and beer production, finished with a complimentary beer tasting.
Groupon's Guide To Amsterdam
Sitting on the south bank of IJ Lake, Amsterdam is a port city connected to the North Sea, with Amstel River flowing through from south to north. Mixing vibrant nightlife and many diverse festivals with Renaissance architecture and cultural events, Amsterdam, the capital city of Netherlands, is a convenient spot for exploration and relaxation.
Guests can take a breath of fresh air with a stroll through the Erasmus Park, where ponds, gardens and local attractions make for a nice day of adventure or lazing in the sunshine. Moving inside, travellers can visit the Van Gogh Museum, which exhibits the works of the great master alongside pieces painted by his contemporaries. In this city of many tastes, tourists may enjoy Asian or Indonesian cuisine at one of the city's restaurants or have dessert in one of the famous pancake houses, before renting a bicycle for a refreshing ride along the canals. Amsterdam also boasts shopping streets, filled with a wide range of stores and street markets selling food and clothes.
The weather in the capital city of Netherlands features an oceanic climate, strongly influenced by the North Sea. The temperatures during the summer season are mild, with the average high of about 20°C. The city gets a great level of sunshine throughout the season. However, the average low temperature, especially in the evenings, reaches about 12°C. Starting from mid-September, autumn is a rainy and wet period, with October having an average of 13°C and November one of 9°C. Amsterdam rarely sees the temperatures drop below 0°C in winter, with the average high around of 5°C. The level of sunshine drops to one hour per day in December, but this improves as the season progresses. In the spring, the weather starts to heat up. Although March and April are still chilly, May is often very pleasant with highs reaching 20°C.
Options
Option 1: standard
€119-€209 for 2 nights, depending on dates chosen
€159-€279 for 3 nights, depending on dates chosen
€189-€359 for 4 nights, depending on dates chosen
Option 2: with Amsterdam canal cruise and skip-the-line admission to Heineken Experience
€150-€240 for 2 nights, depending on dates chosen
€190-€310 for 3 nights, depending on dates chosen
€220-€390 for 4 nights, depending on dates chosen
Please Note: availability at the advertised rates is extremely limited.
*Per Person Offer
Customers must purchase two vouchers to complete the booking
Amsterdam
Delflandlaan 4,

Terms and Conditions
Cancellation policy: No modification or cancellation allowed after booking confirmation. Bookings are non-refundable and non-transferable to another destination once confirmed. Validity: Valid for arrivals on selected dates from Apr to Dec 2018, depending on the option chosen. Dates are subject to availability. Price per person (pp) based on double room occupancy. You must buy 2 vouchers to complete the booking. For customers who want to travel alone, a single supplement will apply based on departure date and time. Please enquire the travel provider at the time of booking. Validity period depends on option purchased (date and number of nights). Booking: Must book within 7 days from voucher purchase and at least 20 days ahead of departure. Booking required by phone 012469696 or via online form. Attach your coupon there. You will receive confirmation of your reservation from the merchant within 3 working days. Book your place immediately after buying the voucher to confirm holiday and avoid disappointment. Purchasing the voucher does not guarantee the holiday, customers must book before travel and it is not possible to turn up without prior booking. Limit of 4 vouchers per person. May buy extra as gifts, but cannot buy more to extend the deal. Transportation details: Valid for direct return flights from Dublin to Amsterdam. Travel documents to be received up to 1 day before departure. You must have your printed boarding pass at the airport, at the risk of having to pay additional charges. Depending on flight schedules and transfers, the first or the last night might not be entirely spent at the hotel. Flights times range from outbound 6.15am-7pm, inbound 9.35am-10.05, alternatives may attract a supplement which will be confirmed at time of booking. Not included: in-flight meals and hold luggage (hold luggage can be purchased at the time of booking with the merchant, the cost will depend on the airline). Hand luggage of up to 10 kg per person included. A valid passport is mandatory. This is a special offer based on specific flight times, dates, airlines and airports which will be advised at the time of booking with the travel provider. Flight departure points, dates and hours are subject to availability. Other Information: The hotels are located in Amsterdam, Netherlands. If the featured hotel is unavailable, a hotel of similar or higher standard will be offered to customers at the time of booking. Excl. 6% city tax (of the room rate) per person, per night. Valid for stay in a standard double/twin room for one person (based on two people sharing). Maximum room occupancy: 2 adults. Child policy: please enquire the travel provider at the time of booking. *Price from €119, per person, based on double room occupancy. Vouchers sold by Groupon International Travel GmbH.